Joshua Hershman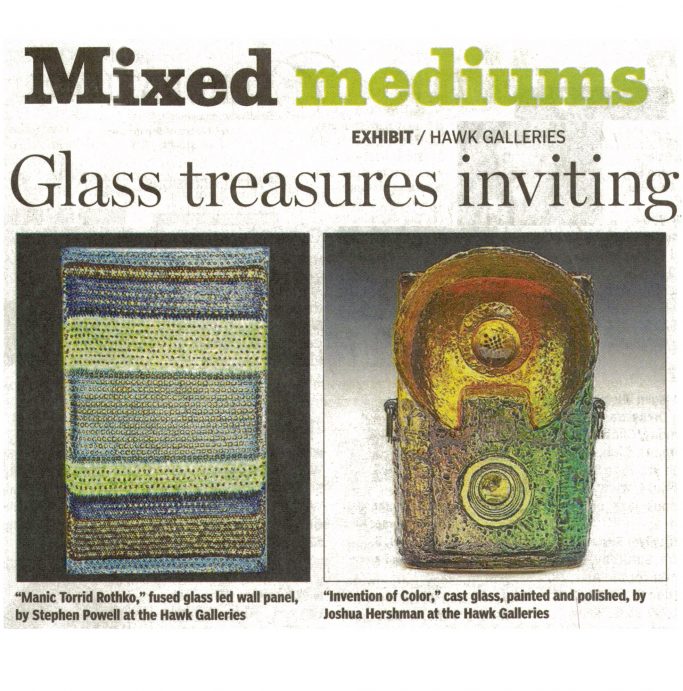 Since early childhood, I have experienced the world without peripheral vision or depth perception. My vision has since been corrected, but through this process I came to acknowledge the curious nature of such visual anomalies, and began to mimic these irregularities within my work. By using broken cameras and intentionally defective lenses, I manipulate light and encourage alternate ways of looking at photography by allowing the optical and fluid qualities of glass to bring new meaning and depth to the photographic image.
By taking photographs and fusing them permanently within glass, I link two diverse yet parallel vocabularies into a unique, sculptural vernacular. The natural play of light and optics inherently found in glass imitates the actual process of taking pictures and exposing negatives. Allowing the work itself to capture these forces, the invisible and counter-intuitive nature of light is revealed. Using the camera as a point of departure, I emphasize the aesthetics of its design, functionality, and iconic meaning, effectively demonstrating how images can both shape and distort our culture, memories, and global consciousness.
Originally from Colorado, Joshua Hershman was born in 1981 and first began working with glass at the age of 17. In 2004, he graduated from the prominent Craft and Design Program at Sheridan College in Ontario, Canada. In 2008, he went on to earn a BFA with Distinction from the California College of the Arts in Oakland, California. In 2016 Hershman received a MFA degree from the New York State College of Ceramics at Alfred University, in the Sculptural/Dimensional Studies program.
Being born with no peripheral vision or depth perception, decades of vision therapy led him to have a lifelong fascination with the complex nature of the visual system, as well as the science of light and optics. His work focuses on the significance that film and photography have played in the development of contemporary global culture and shows how the lens is constantly redefining the complex nature of our image-based society.
Over the past 16 years, Hershman has worked closely with several internationally recognized glass artists developing many unconventional processes that push the limits of the material, and aims to challenge what is considered possible within the glass casting process. Joshua has exhibited his sculptures in numerous solo and group exhibitions, as well as many national art fairs including SOFA Chicago, Art Hamptons, Art Palm Beach, The Armory Show, and most recently at Habatat Galleries 43rd International Glass Invitational Exhibition.
Joshua has been invited to participate in several residency programs including North Lands Creative Glass in Scotland, D&L Art Glass in Denver, and the Appalachian Center for Craft in Tennessee. He has also been an instructor and lecturer at many academic/creative institutions throughout the United States. In 2015, his work received the First Place award by the Glass Art Society in the International Student Exhibition. Most recently, the American Craft Council nominated Joshua's work for the Emerging Voices Award.
Contact Hawk About This Artist