Shane Fero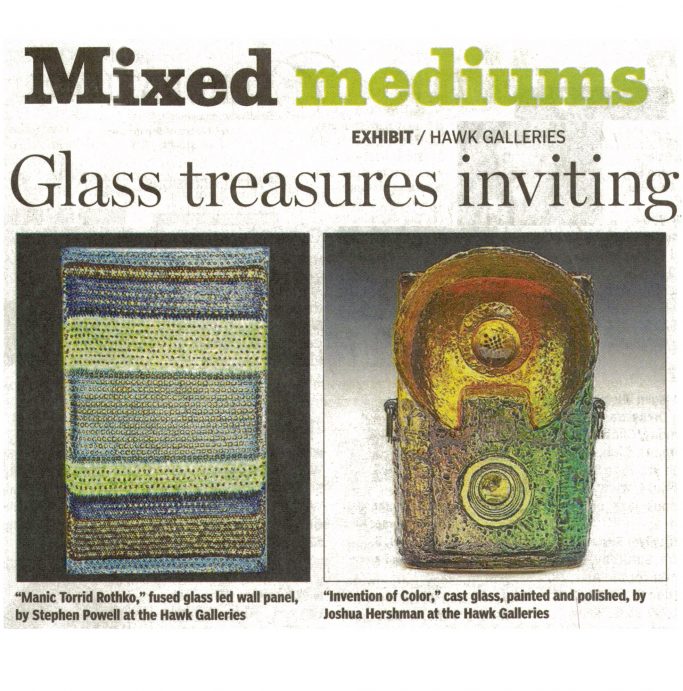 Shane Fero was born in Chicago, IL in 1953 and has been a flameworker for 40 years and maintains a studio next to Penland School in North Carolina. He participates in international symposia and conferences by lecturing, and demonstrating.
click here for video of Shane working!
Fero is also an educator and has taught at institutions such at Penland School, Urban Glass, the Pratt Fine Arts Center, the Studio of the Corning Museum of Glass, the University of Michigan, Eugene Glass School, Espace Verre, Montreal, Quebec, the Pittsburgh Glass Center, Pilchuck Glass School, Bild-Werk, Frauenau, Germany, the International Glass Festival in Stourbridge, UK, Scuola Bubacco, Murano, Italy, Chameleon Studio, Tasmania, Australia and in Seto, Osaka, and the Niijima Glass Art Center in Japan.
During my 47 year career I have been fascinated with and have rendered bird imagery into my work in various forms. This focus has sharpened in the last 14 years with the blown bird series, which is based on techniques of German flameworking. I learned these techniques when I was a young apprentice, although I brought them into a contemporary context in relation to my work. I have always combined bird and human elements in my sculptures, vessel forms, and mixed media pieces. The present bird series was began after 9/11 to counter the mood and malaise of that time period. Birds have that special metaphysical and spiritual quality, which is reflected in their colors, gestures, song and flight. Plus, I love to invoke humor and character into these pieces, especially in the titles. Recently, I have added bird prints in the medium of vitreography printed at Harvey Littleton studios, paintings in acrylic on canvas and water colors on paper to the mix.
His work can be found in collections both private and public institutions worldwide. He has had over 23 solo exhibitions since 1992 and has participated in over 400 group exhibitions during his career. He has been honored with three retrospectives; a 30 year at the Berkowitz Gallery at the University of Michigan in 1999, a 40 year at the Huntsville Museum of Art in 2008 and at the Christian Brothers University in 2010. His work can be found in over 20 museum collections worldwide including the Museum of Art & Design, NY, GlasMuseum, Denmark, the Asheville Art Museum, NC, the Huntsville Museum of Art, AL, the Museum fur Glaskunst, Lauscha, Germany, and the Nijiima Contemporary Glass Museum in Japan. He is currently Past President of the Board of Directors of the Glass Art Society, having finished his presidency in June 2010.
Shane Fero was awarded the Lifetime Membership Honorary Award in 2014 at the Chicago Glass Art Society Conference.
Contact Hawk About This Artist