Ethan Stern
Columbus Dispatch article on Hawk Galleries' 'Brilliant' exhibition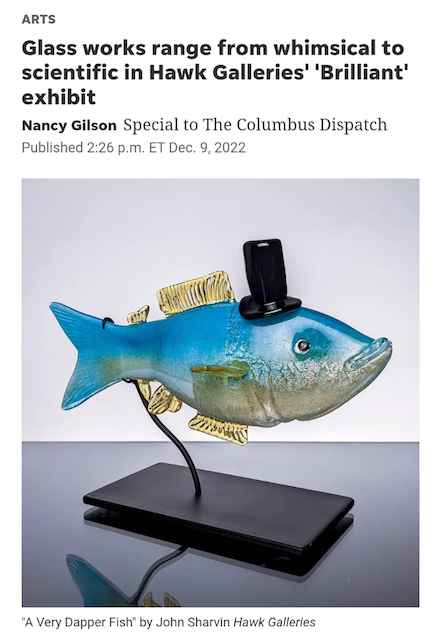 Artist Statement
Pushing form beyond the expected anatomy of the vessel, I use glass to investigate the emotive potential of objects. I begin each piece by creating a blown, geometric form composed of multiple layers of color and pattern. While blown glass typically reflects light and is shiny and dense in appearance, a richer, more luminous effect can be achieved by cutting into the surface after the piece has cooled. I spend the majority of my time creating patterns and textures from the simple shifts in hue, density and opacity, which are a result of the process of engraving. These engraved marks, like the stroke of a paintbrush on canvas, leave evidence of my hand and are intended to create an expressive sense of motion, rhythm, weight, and depth.
Glass is not a forgiving material. It demands an involved process and requires careful planning and manipulation. Engraving has become my voice within the medium, since it is the most direct way for me to leave my mark. My process of carving is a reductive one; I can't add any material once it's removed. This notion of continuously revealing layers pushes me to carefully consider each step and the choices that I make. Because of this, the process plays an important role in the development of each piece.
At the most basic level, my work is an ongoing exploration of abstraction and the expressive qualities of form, color, texture and light, yet I am also very aware of how my physical surroundings influence how these qualities manifest in each piece. I live in an urban area and work in an industrial part of Seattle. I cannot help but allow the hue of the day and the contrast between the engineered and natural landscapes permeate my sense of beauty. Translating this information into my recent work has led to imagery and form inspired by design, architecture and the visual deconstruction of my surroundings.
Process Videos:
EDUCATION
Corning Museum of Glass, Corning, NY
Engraving, Max Erlacher, 2015
Pilchuck Glass School, Stanwood, WA
Mise en Place, John De Wit, 2009
Haystack Mountain School Of Craft, Deer Isle, ME
Advanced Italian Technique, Lino Tagliapietra, 2007
Pilchuck Glass School, Stanwood, WA
Form beyond the Furnace, Lienors Torre, 2006
Alfred University, Alfred, NY. NYS School of Ceramics, Art and Design
BFA, 2001
TAFE, Brisbane, NSW, Australia - College of Ceramics
AA, 1997
SELECTED SOLO EXHIBITIONS
2017 - "Cut Clear" Traver Gallery, Seattle, WA
"Inscribing Surfaces" Morean Art Center/Chihuly Collection, St. Petersburg, FL.
2015 - "Crosscut" Traver Gallery, Seattle, WA
2012 - "Surface, Light and Volume" Toyama Institute of Glass Art, Toyama, Japan
"Object Disposition" Traver Gallery, Seattle, WA
"In Urbanism" LewAllen Gallery, Santa Fe, NM
2010 - "Zoom" William Traver Gallery, Seattle, WA
2009 - "Marked" William Traver Gallery, Seattle, WA
"Surface Content" Chappell Gallery, New York, NY
2007 - "Texture Mapping" William Traver Gallery, Oct. Tacoma, WA
2006 - "In the surface" William Traver Gallery, Seattle, WA
"Making The Mark" Chappell Gallery, Chelsea, NY
2005 - "New Drawings" Vetri Gallery, Seattle, WA
2004 - "Introducing Ethan Stern" Chappell Gallery, New York, NY
PERMANENT COLLECTIONS
Toyama Glass Art Museum, Toyama, Japan
Museum of American Glass, Millville, NJ
Eboltoft Glass Museum, Eboltoft, DK
Museum of Glass, Tacoma, WA
Palm Springs Contemporary Art Museum, Palm Springs, CA
Air Emirates, Dubai, United Arab Emirates
Kenya Airways, Nirobi, Kenya
Norwegian Air, Oslo, Norway
AWARDS
2014 "Peoples Choice Award," Tacoma Museum of Glass, Tacoma, WA
2011 Bishop and Merritt Technical Assistance Grant, Haystack School, Deer Isle, ME
2010 "Best Emerging Artist Award," Tacoma Museum of Glass, Tacoma, WA
2009 The George and Dorothy Saxe Award, Full Scholarship, Pilchuck Glass School, Stanwood, WA
Commission/Permanent Collection. "Oasis of the Seas" Royal Caribbean Cruises, Finland
2008 Purchase Award, Soho Myriad, Ritz Carlton, Shenzhen, China
Finalist, Young Glass 2007 Exhibition, Eboltoft Glass Museum, Eboltoft, Denmark
SELECTED GROUP EXHIBITIONS
2019 - "Pattern, Cut, Repeat" Not So General, Los Angeles, CA
"Luminous: Dale Chihuly and the Studio Glass Movement" Northwest Museum of Arts and Culture, Spokane, WA
"Lure of the Object: Art from the June & Rob Heller Collection" Knoxville Museum of Art, Knoxville, TN
2018 - "Glasstastic: BAM! Biennial" Bellevue Art Museum, Bellevue, WA
"Glass is Biotiful" Biot Town Hall, Biot, FR
2017 - "FORM Miami" Miami FL – rep. Blue Rain Gallery
"SOFA" Chicago, IL – rep. Habatat Gallery
"Glass for the new Millennium –Masterworks from Kaplan-Ostergaard, Palm Springs Art Museum, Palm Springs, CA
2016 - "Glass for the new Millennium –Masterworks from the Kaplan-Ostergaard collection" Crocker Art Museum, Sacramento, CA
2015 - "43rd International Glass Invitational-The Creative Process" Habatat Galleries, Royal Oak, MI
2014 - "Schmidt, Stern and Wolf" Hawk Galleries, Columbus, OH
Accreted Terrane" Curated by David Francis. Museum of Northwest Art, La Conner, WA
"New Work" Traver Gallery, Seattle, WA
2013 - "Wheaton Glass: The Art of the Fellowship" Museum of American Glass, Millville, NJ
"Seattle Six" Dane Gallery, Nantucket, MA
"Glass Canvas" curated by Sarah Traver, The Schack Art Center, Everett, WA
2012 - "Duality" with Nancy Callan, Hawk Gallery, Columbus, OH
"Gallery Artist Group Exhibition" Traver Gallery, Seattle, WA
"50/50" Muskegon Museum of Art, Muskegon, MI
2011 - "Clear and Present: works in Glass by 12 Artists" Lew Allen Gallery, Santa Fe, NM
Contact Hawk About This Artist