George Nick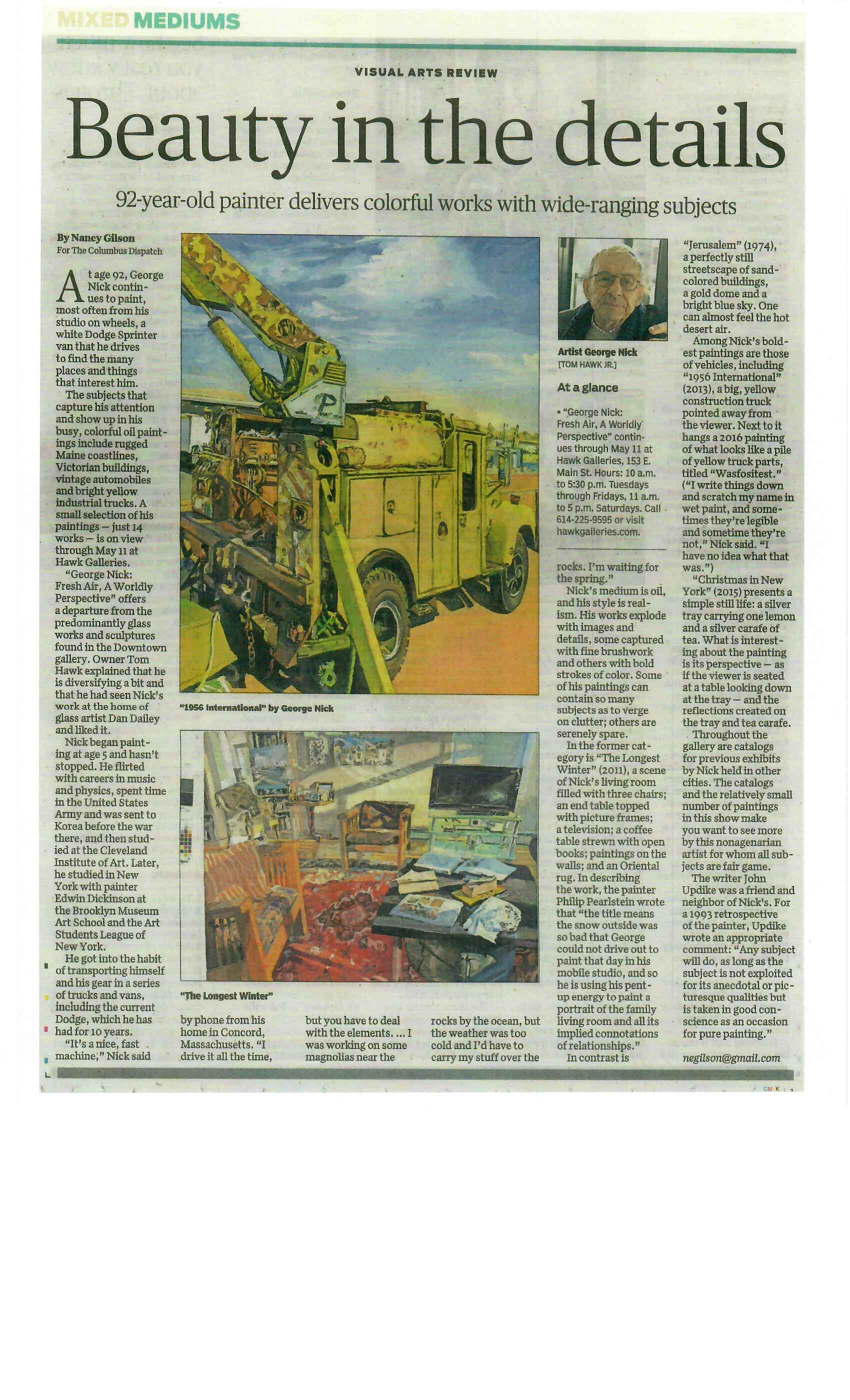 Author John Updike, who has known George for decades said of George— "He paints what he sees, and what he doesn't see he doesn't paint."
Miles Ungar, a regular contributor to the New York Times, and Winslow Homer expert said, of him:
"I am reminded of something Henry James once said of Winslow Homer: "He has chosen the least pictorial features of the least pictorial range of scenery and civilization: he has resolutely treated them as if they were pictorial… and, to reward his audacity, he has incontestably succeeded." He continued saying "George's is essentially an optimistic vision, one still dazzled by the world and all its variety."
George's father was a carpenter and cabinet maker who first came over from Bulgaria in 1917, went back home and returned to Rochester NY with his new wife. In 1927, George was born. George began painting at the age of 5 and got his first oil painting set in the 6th grade
As a young man he loved the violin, string bass and the tuba– music excited him. He started composing and went to the Eastman School of Music. He decided he wasn't a musician and enrolled in the University of Rochester, majoring in physics.
He got drafted into the army and was stationed near Washington DC where he saw his first real museum-- The National Gallery of Art. He visited regularly. Then he was sent to Korea. A friend in the Red Cross had a building full art supplies and gave George anything he wanted so he started painting at night. He wrote to his father and told him he was going to be an artist.
Upon leaving the armed forces, George followed his interest in Mexican art. When he learned that the Cleveland Institute of Art's director had written a book on the subject, he enrolled there. After three years there, a friend suggested he go to New York with him to study with Edwin Dickinson. George asked "Who is Edwin Dickinson?" and his friend said– "He's the finest painter in the world!" So, George attend the Brooklyn Museum Art School--under Dickinson. George feels a great deal of gratitude to Dickinson.
George believes he "provided real training—it was serious and simple." George further explains- "You learn, not by words, but by practice.Dickinson gave me the tools of thinking– I had an understanding the world was an exciting place. His teaching taught me how to make a painting of it." George loves a particular Dickinson comment:
"Painting is like jumping off a train at 60 miles an hour."
At the time George thought this couldn't be farther from everything he knew about Dickinson's work. But he agreed-- "It's like treating an accident. It's a situation of extreme anxiety."
George's approach is about doing dangerous, crazy things and then trying to corral them. He paints from life, and life is what consistently finds its way back into his art. His art is about his response to a subject – it scarcely matters if it is a car a landscape or living room.
He continued his studies with Dickinson at the Art Students League- he drove a cab, worked at the post office, and delivered laundry at night so he could paint during the day
Richard Anuszkiewicz, a former classmate from the Cleveland Institute of Art, suggested he then enroll at Yale, where he studied with Chuck Close and Richard in Serra to name a few. Over the years, he has taught at numerous institutions, his longest tenure being at MassArt for 25 yrs.
Much like Monet who outfitted boats as a floating studio, George paints out of his famous picture–window truck, almost a Magritte fantasy, a miniature studio on wheels, originally suggested to him by his wife Assya, in response to his yearning to paint larger canvases. He randomly drives around looking at things…. using the tools of observation to capture an experience that is full of impulse and gesture. A particular place is not as important as the act of discovering it. "I don't have to see things," he says,"I have to look for them."
Nick explains that each time he begins a painting, he has no memory of what has come before because he is so present in what he is seeing. I'm excited about the world– it somehow engenders action on my part. Inscribed into the wet paint of nearly every painting, George scratches the date and place – evidence that he has truly experienced a time and place.
He has been called the Peter Pan of artists, stubbornly refusing to grow up. With a distinguished career already in the books, he still confronts the world with the same sense of discovery and delight he always has, and he paints every day!
Nick's work is included in the collections of the Museum of Fine Arts, Boston, the Metropolitan Museum of Art, New York, the Hirschhorn Museum and the Corcoran Gallery of Art in Washington D.C., among many others.
Public and Corporate Collections
Ackland Museum of Art, University of North Carolina Chapel Hill NC
American Telephone and Telegraph New York NY
The Art Complex Museum Duxbury MA
Boston Public Library Boston MA
Charles Hotel Cambridge MA
Chemical Bank New York NY
Commerce Bancshares, Inc. Kansas City MO
Corcoran Gallery of Art Washington DC
Currier Gallery of Art Manchester NH
Danforth Associates Boston MA
Danforth Art Framingham MA
DeCordova Sculpture Park and Museum Lincoln MA
Federal Reserve Bank Boston MA
Fidelity Investments Boston MA
Folks Museum Essen Germany
General Investment and Development Company Boston MA
Grinnell College Grinnell IA
Hancock Insurance Boston MA
Hirshhorn Museum and Sculpture Garden Washington DC
Illinois Bell Chicago IL
Jacobs, Visconsi, and Jacobs Cleveland OH
Joslyn Museum Omaha NB
Metropolitan Museum of Art New York NY
Mint Museum Charlotte NC
GEORGE NICK / page 11
Museum of Fine Arts Boston MA
National Museum of Johannesburg South Africa
NYNEX New York NY
Owens-Corning Fiberglass Corporation Toledo OH
The Patricia and Phillip Frost Museum Miami FL
Princeton University Art Museum Princeton NJ
Rose Art Museum, Brandeis University Waltham MA
Seaworthy Holding Limited Boston MA
Shaw, Pittman, Potts and Towbridge Washington DC
Smithsonian American Art Museum Washington DC
The Springfield Art Museum Springfield MO
Standish, Ayer and Wood Boston MA
Sullivan and Cromwell Washington DC
U.S. Coast Guard Boston MA
U.S. Tobacco Greenwich CT
W.C. Bradley Company Columbus GA
WCVB-TV Boston MA
Weatherspoon Art Gallery Greensboro NC
Wellington Management Company Boston MA
Education
Yale University New Haven CT 1960-63
BFA & MFA
Art Students League New York NY 1957-58
Brooklyn Museum of Art School Brooklyn NY 1951-52
Cleveland Institute of Art Cleveland OH 1948-51
Contact Hawk About This Artist